Does my law firm's website need a blog?
Businesses must develop their own narrative in an age where information is readily available with only a few clicks or taps. This is especially true in the field of law.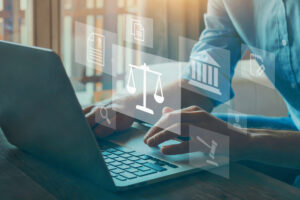 Law is a complex and ever-changing discipline, with seemingly unlimited specialties formed to meet the public's requirements. One of the issues is that legislation is becoming increasingly difficult for the common individual to comprehend.
Having a blog is the best method to alleviate this misunderstanding. So, if you're asking if a blog is necessary for my law firm, the answer is yes. Yes, it is a resounding yes!
Developing a blog for your law company will benefit you in the following ways:
Search engine optimization.
The greatest strategy for any website to rank for a variety of search phrases is to consistently create appealing content. Because search engines crawl pages rather than entire websites, the more individual pages of material you have on your site that address a range of topics, the more chances searchers will find you.
As regulations change and new legislation takes effect, maintaining a blog on your law firm's website is an excellent method to acquire leads from people looking for information on a particular legal subject or piece of legislation.
Allow individual lawyers to demonstrate their expertise in specific areas.
Rather than posting articles or blog posts on behalf of the firm, attorneys can write their own or hire a third-party law firm content and seo service. Allowing attorneys or specialized writers to submit material or updates on specialized areas can attract new clients who are interested in that specific service.
Demonstrate the firm's flexibility.
When a visitor comes to your website, a blog with new information posted on a regular basis keeps it looking fresh. It's also a wonderful way for the firm to respond swiftly to a change in law or a hot topic issue, demonstrating to website visitors that the attorneys are up-to-date on current legal issues.
Law companies are already well-positioned to flourish in the digital world!
It can be difficult to come up with a new topic to blog about each week. Content creation is already a specialty of law firms and attorneys (presentations, client handouts, memos, briefs, emails, etc.) All of this stuff lends itself perfectly to being reused for a blog.
A blog for a law firm will increase your credibility.
(a) Increasing Prospective Client Credibility
When a potential client visits your law firm's website and sees that you routinely write articles on the various areas of practice you provide and your success stories, they will believe that you are a leading expert in your field and the best option to help them with their legal issues.
(b) Using Google to Build Credibility
Google's job is to find the best solution for someone who is looking for an answer to a problem. The more expertise you can share on your website and have indexed by Google's search engine, the more reputable you will become and the more likely they will wish to deliver your answers to Google searchers.
It saves time and improves service.
Before a prospect becomes a paying client, they will have a number of questions that they will need answered, and they will most likely have to contact reception or send an email to acquire these answers. The majority of the time, these clients' questions are the same and are repeated.
A law firm blog would allow you to write individual entries answering these questions, ensuring that the majority of them are addressed before the prospect picks up the phone to call your practice. This saves the front desk a lot of time and money by allowing them to focus on converting pre-qualified clients.
A current law firm blog helps you stand out from the crowd.
Having a current and frequently maintained blog will put your firm miles ahead of the competition. Many of the competitors' websites do not have a blog, and those that do not write or update it on a regular basis, and those who do post do so without understanding search engine optimization or the best keywords to employ.
A well-researched, consistently updated, and promoted blog would put your company ahead of the competition.
A blog can provide content for your social media accounts: We'll share this article across all of our social media platforms.
Your blog postings can be shared on social networking platforms like LinkedIn, Twitter, Instagram, Facebook, and others to assist clients and prospects while also promoting your company.
A blog can help you increase your email database.
Despite technological advancements and the profusion of communication channels, email remains one of the most effective ways to grow your business and stay in touch with clients and prospects.
You can include email signup forms in blog posts so that readers who are interested in hearing from you can provide you with their contact information so that you can send them more information. Another strategy to keep your business front of mind with prospects/clients is to send them regular (not spam) email communications, and having a blog will help you grow this email database.
Blogging can help you establish yourself as a thought leader and subject matter expert.
The fundamental goal of a legal blog is to attract new clients. Nonetheless, blogging about legal matters will establish your legal knowledge. Students, civic groups, journalists, and others use the internet to look for lawyers to speak at events. They'll be able to find you thanks to your blog.