SEO for Electricians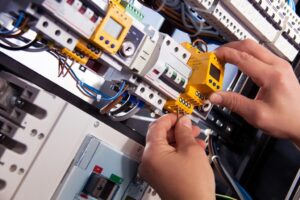 Many things have changed since companies began advertising their goods and services online. Every company requires a strong marketing plan to expand, and if you're an electrician hoping to reach more potential clients as well as current ones, you have to optimize your site using the most recent SEO strategies.
Let's examine how SEO can assist in getting your website to the top of Google searches.
Why is SEO So Important?
An electrical provider could easily entice customers to choose them back then. It would be sufficient to place a straightforward electricians' ad in the Yellow Pages. People now use Google to find the information they need. In fact, a sizable portion of internet users who look for local electrical service providers wind up becoming their clients. However, the main concern for an electrical business owner is this: How probable is it that someone searching for a local electrician on Google would reach their page? It is not impossible to accomplish this.
You can start by including targeted keywords that are related to electrician-related terms or adverts so that anyone searching for any of related terms will find your website and become a client. This digital marketing strategy is the best way to make your website visible on the internet.  Making use of diverse SEO techniques facilitates internet visibility. Similar to word-of-mouth marketing, SEO involves businesses deliberately influencing and promoting natural conversations about their products or services.
Although it takes some time, the process eventually drives conversions like nothing else. In comparison to typical outbound marketing, the leads produced by a strong website traffic have an eight times higher likelihood of becoming sales. The appeal of SEO is how it makes it possible for you to show up among the top results when your target market conducts a search. Nothing would stop you from enticing potential customers to learn more about your products and services when you combine this with a reliable website.
Starting Out With SEO
Customers searching for electricians and/or electrical services nearby are given local results by Google. Your company will appear in locations throughout Google Maps if your website is optimized for local SEO. For example, if you type "salons" into Google on a mobile device, it will try to suggest local salons that you might want to visit.
Despite the fact that SEO can assist you in making your website visible to individuals who require your services and increase client traffic, you might still need to enlist the assistance of a reputable SEO service provider. Companies that specialize in search engine optimization work with you to make improvements in a number of areas that will increase traffic to your website and demand for your services.
Choosing the Proper Keywords
Any SEO specialist will start by creating a list of the best phrases and keywords that your target clients use to search for your services. In order to appear among the top searches on search engine pages, you must target these keywords. The keyword list should be appropriate for the services you provide and the industry you serve.
In your SEO approach, keywords are crucial so they can be fiercely competitive. Therefore, you should pick the keywords that could give your company the most return on investment. Once you have a complete list of keywords, you may also choose a free. With the account, you get access to a free tool named Google Keyword Planner which shows you other comparable phrases and assists you in determining how much traffic your keywords generate.
On-Page Improvement
The next step is to optimize your website's on-page components. Search engines must comprehend the subject matter of your pages in order to display your website in response to relevant search terms.You must target every page and provide each of them one of the listed keywords. Additionally, you must ensure that the term appears in the page's name, meta description, header tags, and body.
Google has very tight policies. Therefore, stuffing your sites with keywords in an attempt to increase organic traffic will actually degrade user experience and hurt your results. The trick in this situation is to focus on providing helpful info within your content and using keywords that are suited for the situation. Making your website mobile-friendly will significantly improve your rankings. Google rewards sites that are mobile-friendly and optimized for viewing and gives them a higher ranking in mobile search results.
Link Creation Improves Over Time
It's crucial to establish quality backlinks from reputable sources as Google regards them as being a key element in calculating your site's ranking. Again, link building takes time, but it can propel your business to the top of Google's search results if you have a strong network of high-quality backlinks.
You must list your company in internet directories and increase your profile in online community sites as a part of a backlink building strategy. Additionally, you must create articles and guest posts using the electrician keyword list.
The Key Component to a Successful Website: Quality Content
There typically isn't much substance on electrician websites. They still need to include more original content to advance their SEO techniques, even though such content provides some fundamental information on the services they offer and their contact details.
A wonderful technique to make your material interesting to the intended audience is to include infographics and videos that pertain to electrical branding or other electrical terminology. Creating material consistently informs Google that your website is current, and it provides something that can be valuable to internet users. Other websites will consequently better connect with you.
To Sum it Up
None of the SEO tactics mentioned above can guarantee you instant results. An important job that needs time and experience is SEO for electricians websites.
Whether you choose an internal team or work with an SEO service to manage your project cost-effectively and boost your ROI, boosting your website will make sure that your electrical company remains on top of the game.